CleanBC – クリーンテックと水素
British Columbia (B.C.) has one of the highest tech sector growth rates relative to GDP in Canada. It is home to world-class clean technology companies that specialize in clean energy, clean transportation technology, energy efficiency, clean water treatment and waste resource management. Being a global leader in fuel cell innovation and hydrogen technology, there are more than half of Canada's companies active in this sector based in B.C.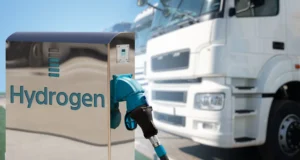 Hydrogen is an energy source that can be compressed or liquefied for storage and distribution. Compared to battery-electric vehicles, hydrogen fuel cells powered vehicles can travel greater range with shorter refuelling times, as well as operate at lower temperatures without sacrificing range or performance.
B.C. is the first Canadian province to release a hydrogen strategy and is committed to growing its hydrogen economy. From supportive provincial policies and access to export markets, to strong collaborative partnerships and a stable investment climate, B.C. has all the elements in place to support this growing sector.
Loop Energy
Loop Energy  is an industry leader in developing, manufacturing and supplying hydrogen fuel cell systems for the electrification of commercial vehicles. The company was founded in 2000 and raised $100 million on the Toronto Stock Exchange in 2021. Headquartered in Vancouver, B.C., Loop Energy has expanded its manufacturing, business development and service to Asia and Europe.
Loop Energy's products feature hydrogen fuel cell solutions with patented eFlow™ architecture, which enables commercial customers to maximize performance and minimize cost. eFlow™ is designed to lower the total cost of ownership and improve vehicle performance; vehicles include transit buses, logistics fleets and delivery trucks.
Loop Energy's Global Expansion
Besides a production facility in B.C., Loop Energy has another facility in Asia, and offices in Italy and the United Kingdom. Featured customers are:
Tevva, a truck manufacturer in United Kingdom
NGVI, an integrator for transit and commercial vehicles in South Korea
Skywell, a transit bus manufacturer in China
Mobility & Innovation, a minibus manufacturer in Slovakia
Opex, an integrator for trucks in Columbia
Avia Ingenieria, a powertrain integrator for trucks in Spain
In September, Loop Energy announced a new product at IAA Transportation 2022, the world's most important platform for the future of the commercial vehicle industry to be exhibited, in Hannover, Germany. The new product S1200 builds on Loop Energy's eFlow™ fuel cell architecture, to provide an additional efficiency gain of 20% while generating electricity, which means less hydrogen fuel used per kilometre, the total cost of ownership (TCO) of hydrogen-electric commercial vehicles is lower. Loop Energy believes this new product is a significant achievement in advancing the global hydrogen industry because the new product allows hydrogen fuel cost to reach parity with diesel fuel cost for the long-haul trucking industry up to 8 years ahead of industry expectations, and that will benefit commercial vehicle manufacturers and associated industries as governments seek to reach net zero emissions by 2050. This affirms how B.C. is at the forefront of green innovation. In 2021, the province released "CleanBC Roadmap to 2030" to achieve 100% of 2030 emissions reduction target and fulfill the net zero commitment by 2050, which is a stronger and more ambitious plan to further build a cleaner and stronger economy.
Export B.C.
B.C.'s prime location supports B.C. businesses; businesses of all sizes and across all industry sectors can benefit from going global. Leveraging B.C.'s competitive advantage, Trade and Invest BC provided services, resources and expertise for export-ready businesses to reach new markets. Canada's Trade Commissioner Service also offers in-depth resources regarding tariffs, sanctions and trade agreements.
Learn more about expanding your business and how Trade and Invest BC helps B.C. businesses build connections and promote B.C. products and services globally. We have experts located in major trading communities around the world that are ready to assist.